Best Under Sink Reverse Osmosis Water Purifier System for Your Home
Under sink water filter systems are a popular way to get healthier, better-tasting water because they remove more contaminants than most pitcher-based options and even bottled water. Additionally, using an under sink filtration system enables you to instantly enjoy clean water straight from the tap without waiting or taking up valuable counter or fridge space.
Clean, healthy water is essential. After all, you use water for so much from washing produce to watering plants to filling your family's glasses at dinner. The majority of municipalities use chemicals such as chlorine and chloramines to treat drinking water for bacteria, but the process can miss other contaminants that may be detrimental to your health. This is why we recommend installing a water filter system under your sink, on your countertop, or for your whole house.
Compared to most other filter systems available in market UAE Water systems under sink Reverse Osmosis Water Purifier reduce 15x more contaminants. In fact, our systems are tested to removes up to 99% of harmful contaminants including mercury, fluoride, lead, asbestos, and others from your tap water.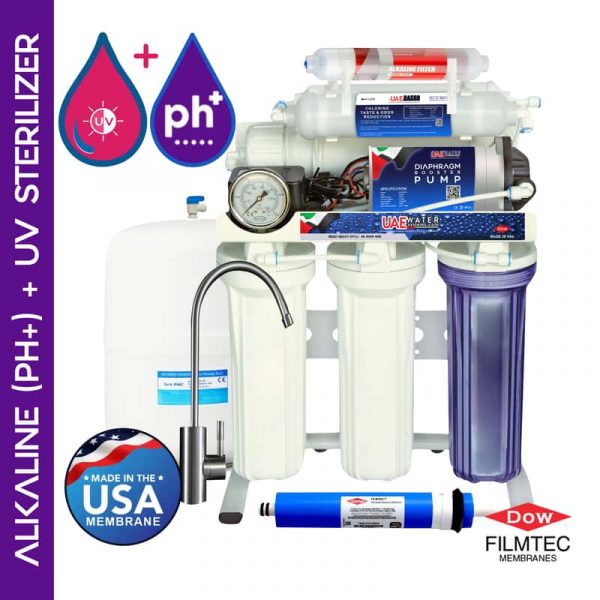 Reverse Osmosis alkaline reverse osmosis 8 Stage PH Water Filtration System with a 1-Year Warranty. This is the ONLY RO on the market that is truly Made In American Membrane.
Refines and enhances taste
5 Micron Sediment Filter

Reduces Dirt, Sand and Rust

Carbon Block Filter

Reduces Chlorine, Objectionable Tastes and Odors

1 Micron Special Blend Carbon Block Filter 

Reduces Chloramine, Lead, Cysts

50 GPD or 100 GPD 

Reduce water waste by up to 80%

Carbon Post Filter

Refines and enhances taste

Mineral Post Filter

Refines and enhances taste

Ultraviolet UV Water Filter effectively destroy 99.99% of Bacteria, Viruses & Cysts
Alkaline Ph Water Filter Increases the pH Level of Water up to 9.5 and Converts Your Drinking Water into Alkaline Water