The Benefits of a Whole House Water Filters System
When you invest in a Whole House Water Filters system you get healthier water flowing from every tap of your home, which means cleaner water for cooking, doing laundry, bathing, and more. Our home water filtration system is tested to reduce up to 97% of chlorine, and all of our whole house water filtration systems have been tested to reduce harmful contaminants from your drinking water. Here are some of the benefits of an UAE Water Systems whole home water filter systems:
Reduce contaminants in your water
Get healthier skin and hair
Improve the flavor and quality of your food and drinks
Provide healthier water for your pets and plants
Improve indoor air quality from reduced contaminants in the water
whole home water filter for Clean, Healthy Water from Every Tap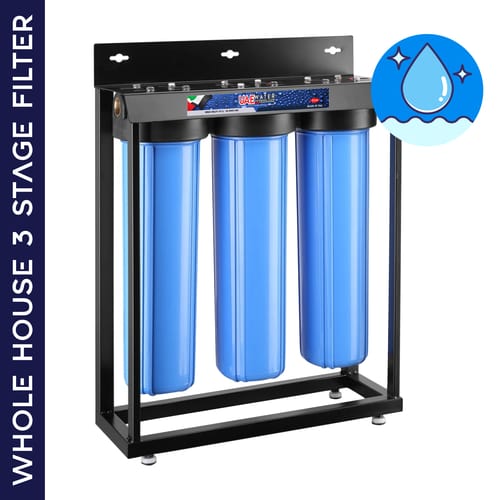 Whole House Water Filter: Reduce harmful impurities from your entire home's water with 3 Stage Water Filtration System. Sediment, Carbon and Yarn Water Filter: Keep the most damaging sediments out of your drinking water and protect your other filters from coarse impurities including rust, sand, dirt, silt, chlorine, solvents, chemicals, and improves the taste!
High Quality Whole Home Water Filter: UAE Water system's comprehensive whole house filtration system means no more worrying about your home's water. With specially engineered high flow filtration you can have filtered clean water from any faucet with no drop in your water pressure. this whole house water filter system is installed at the main water supply line
5 Micron Sediment Filter

Reduces Dirt, Sand and Rust

Carbon Block Filter

Reduces Chlorine, Objectionable Tastes and Odors

5 Micron Sediment Yan Filter Reduces Dirt, Sand and Rust other impurities