UAE water systems is a huge name among the suppliers of water products in UAE and Dubai. Our main aim is to spread economical and eco friendly water products. That is the reason we are the best water filters suppliers in UAE.
With the increase in water pollution water filters is now being equipped in every place it can be your home or your work place. Water filters are capable of removing ninety nine percent 99% of contaminants and particles from the water of your supply. That makes your tap water clean, pure and healthy to use and to drink it on daily basis.
Basically the process of Whole House Water Filtration consists of three major steps. The filtration units installed at homes or works places are designed simply so that they can work at very low maintenance cost and fulfilling all your water consumption needs. Talking more about the water filters suppliers in UAE I would first tell you about the water filtration process.
Three Major Steps of Water Filtration
The first step consists of storing water in a sealed compartment and after that the process of filtration begins. Basically your fridge filtration system has the technology to do it automatically but it is for less consumption. Other whole house water filters installed at houses contain the water in comparatively bigger tanks for more water processing. On the other hand for commercial water filtration large tanks are used to store that water attached to proper piping for the water flow.
On the second stage activated carbon is used to attract harmful contaminants that are present in your water coming for source such as lead and organic compounds that you want to remove from your water. With the help of absorption the water is then purified from the contaminants and enhances the taste of your processed water.
In third step of filtration process water filter processes to remove chemicals such as chlorine
First, water needs to be sealed into one compartment for filtration to start. Your fridge filtration system can do this automatically to begin the process. Other residential filtration systems work on a larger scale to compartmentalize water from the source before filtering. Commercial systems utilize large tanks and sophisticated piping for optimal flow.
Second, activated carbon attracts harmful contaminants such as lead and other organic compounds present in water that need to be extracted. This process removes impurities and improves the taste and smell of your water through the act of absorption.
Lastly, chemicals present in your water filtration system work to reduce chemicals like chlorine via direct contact. This prevents buildup of hard water spots that are difficult to clean and maintain, especially in bathrooms and kitchens.
Depending on your water filtration system, your filter may need to be changed out frequently to prevent excess buildup and the inhibition of core functions. With most systems, you will likely need to replace the filter every six months, but not all systems require this step. If necessary, remember to replace the filter in your system by placing the task on your calendar or yearly checklist.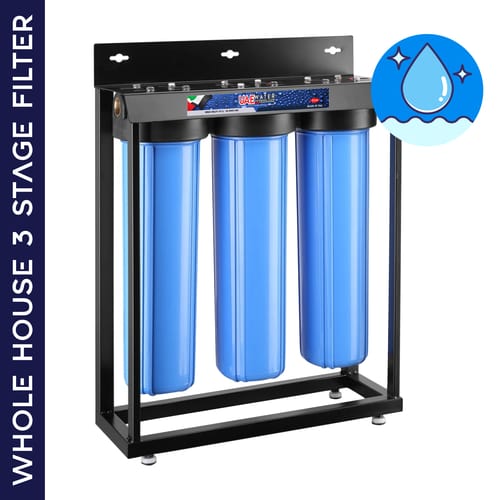 Whole House Water Filter: Reduce harmful impurities from your entire home's water with 3 Stage Water Filtration System. Sediment, Carbon and Yarn Water Filter: Keep the most damaging sediments out of your drinking water and protect your other filters from coarse impurities including rust, sand, dirt, silt, chlorine, solvents, chemicals, and improves the taste!
High Quality Whole Home Water Filter: UAE Water system's comprehensive whole house filtration system means no more worrying about your home's water. With specially engineered high flow filtration you can have filtered clean water from any faucet with no drop in your water pressure. this whole house water filter system is installed at the main water supply line
5 Micron Sediment Filter

Reduces Dirt, Sand and Rust

Carbon Block Filter

Reduces Chlorine, Objectionable Tastes and Odors

5 Micron Sediment Yan Filter Reduces Dirt, Sand and Rust other impurities
WATER FILTER TIPS FOR KEEPING YOUR HOME OR BUSINESS SAFE
Water purity and safety is paramount for commercial and residential properties alike in Dubai. Both use pure water as a safeguard against the spread of illness and disease, or against food and beverage safety issues. For instance, without pure water, your favorite beer would taste much different and could even be hazardous to your health.
Learn about water filter for drinking UAE
Furthermore, many businesses are recycling water for increased efficiency of operations. Instead of letting water runoff once it's used in the processing of materials (such as in a factory setting), businesses have found value in recapturing that water, treating it and reusing it again. They can also sell it to third parties for reuse. It is becoming more commonplace now in many different industries, from agriculture to fire protection services, to use reclaimed water.
Recycling water also has the added benefit of reusing a non-renewable resource, which is great for the environment and the planet. Business owners can share this information with their customers to show their commitment to the health of the planet and the people that inhabit it.
Want more water filter tips and information about how water filters work in United Arab Emirates? Speak with an expert to discuss water filtration options for your home or business by contacting UAE water systems. We would be glad to provide more information or schedule a consultation regarding your residence or commercial property.